Knife Making Class held every Sunday.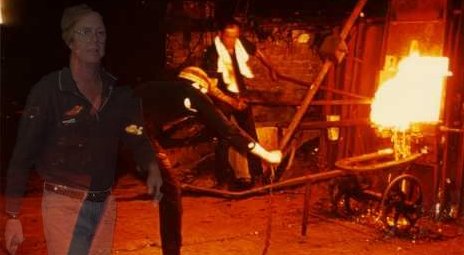 This is an informal hands-on  class but there will be talk and instruction on the structure and composition of blade material, etching, file work, use of tools, various methods, mosaic and Damascus will also be discussed. Constant guidance is given every step of the way.
This is a hands-on course as most students will finish a knife of their design. Guest speakers and knife makers occasionally show up and for those occasions I will try and post under "News & Events". We also discuss decorative etching, file work, and Damascus. Everyone enjoys themselves.
Whether you just want to make a knife for yourself, learn the craft as an ongoing endeavor or are experienced and want to explore a new method you can benefit from these classes and a good time is guaranteed.
Topics Discussed and You will learn:
Basic techniques of knife making
Forging
Heat treating and tempering
How to grind and shape a knife style of your choice
How to shape and fit handle material of your choice
How to rivet the handle
Decorative etching, file work, mosaic and damascus
About the structure and composition of blade materials
Topics:
Metallurgy
Metal selection
Stack organization
Patterning
Etching
Billet manipulation
 Well Equipped Facility 
Propane Forges, Anvils and Vises
Power Hammer
Various Grinders/Sanders
Various Saws
Drill Press
Milling Machine
Metal Lathe
Welder
… and Lots of tools
For further information please contact me here.