These knives are handmade using the same materials found in the full sized knives. Various High-Carbon Steels as well as Stainless and Damascus. Brass, nickel-steel and wood spacers are sometimes crafted in handles from exoctic hardwoods, marcarta and different horn types.
Your knife will be made especially for you. These knives represent the style and size and price. All knives will vary somewhat as they are handmade but will be made according to the style you choose. If you have any special needs such as blade steel, guard material/style or handle material please phone (1-318-865-8166) or email me with your request.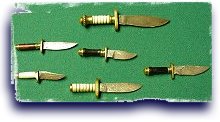 All my knives are guaranteed.